Picture Books + Poems for the New Year
We started back to school last week, but we waited until Epiphany to fully leave behind our Advent memory work. We've still been singing "Joy to the World" and reciting most of Luke 2. But tomorrow we'll start a new cycle including Robert Frost's "Stopping by Woods on a Snowy Evening."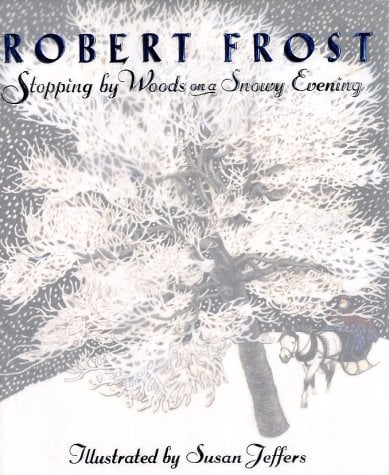 At the library I found a picture book version of the poem illustrated by Susan Jeffers. The wintery world of the poem is punctuated with small bits of vibrant, almost glowing, color. The man with the wondering horse is out to bring nuts and berries to the forest creatures–very much still the work of the Christmas season! The dust jacket includes a piece of vellum that slips over the scene. It makes it harder to see and more mysterious. I told the kids that if this book was all I showed them all year long, it would be a good year!
We'll be pairing this with a new biographical picture book called Papa Is a Poet. It tells about Robert Frost's early poetic career from the point of view of his children. The book includes a large selection of poems, including "Nothing Gold Can Stay." We learned this by heart during our Fall Co-op. Joseph, the 5 year old, declared it too rhyme-y! I wonder what he'll think of the rhymes in "Stopping by Woods"? In fact, my own distaste for rhyme is part of the reason I chose these poems. Frost still moves me even though I don't care for rhyme. I've got a Joseph Brodsky essay on Frost at the top of my stack of books, right next to his Nativity Poems.
So, this New Year looks like it might be a good one for poems. If only the weather would turn and we'd get some snow!
Here's a printable version of "Stopping by Woods on a Snowy Evening" and "Nothing Gold Can Stay" with illustrations by Gertrud Mueller Nelson in case you need some poems for Monday's Circle Time!