for all the saints :: st george
For all the saints, who from their labors rest,
Who Thee by faith before the world confessed,
Thy Name, O Jesus, be forever blessed.
Alleluia, Alleluia!
saint day celebrations are another excuse to continue the celebratory atmosphere of the Easter season.  they are the perfect time to learn about people who lived in another time and place but shared the same faith.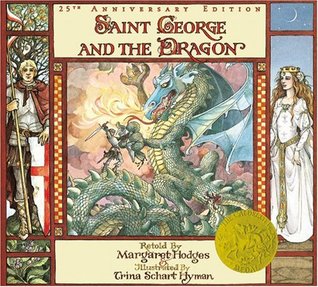 April 23rd is the feast day of St George of merry England.  Margaret Hodges retelling is just about the perfect picture book.  the illustrations are detailed and luminous; the text is evocative, rich, poetic.  it bears re-reading.  and in these days after Easter, the story only becomes more momentous as the brave knight has vanquished the fearsome dragon once and for all.
so spend some extra time together in the next few days sharing this wonder of a book.  brew some tea; make some serendipity bread.  color together.  linger.  savor.  celebrate.