Hymns of Reverence and Gratitude
Have you subscribed and received your copy of Family Hymns yet?  Have you subscribed and NOT received your copy yet?  There are a few moving parts, and the process isn't animated, so it's possible that an email might have fallen through the cracks in the recent move.  Please do leave a comment here or send an email, so I can get you the file!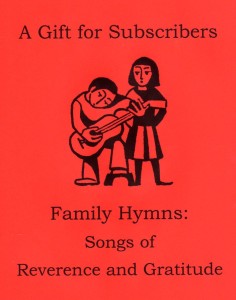 A few disparate notes related to hymnody:
Gratitude bestows reverence, allowing us to encounter everyday epiphanies, those transcendent moments of awe that change forever how we experience life and the world.
(You'll notice that I've underlined the links in the post…I still need to figure out how to change the link color to something a little easier to see!)