Poetry Every Week…and a GIVEAWAY!
Now that you have a couple solid days of everyday poetry practice under your belt, are you ready to take your practice to the next level?  Here are a few weekly poetry resources.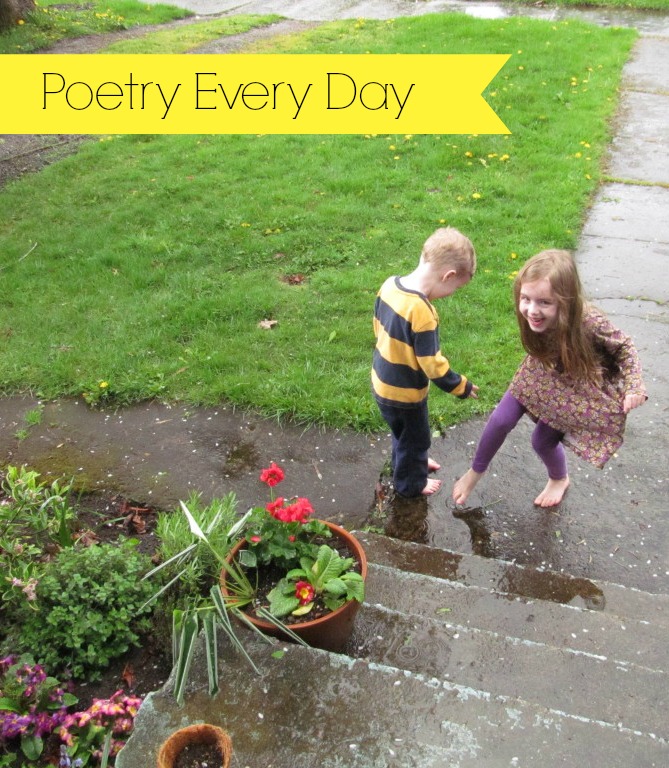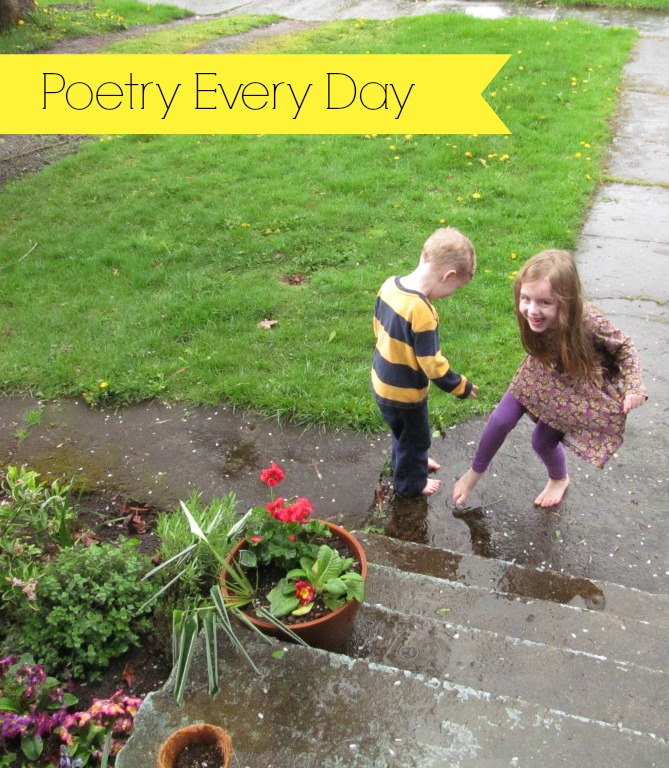 Poetry Teatime
When her kids were young, Julie from Brave Writer used to host Poetry Teatimes every Tuesday.  There were treats and books of poems on the table.  She brewed a pot of tea, and everyone choose a poem to read aloud.  She advises that, "Poetry should be read with an empty mouth!"  That might be easier said than done at our place!  Along with great ideas for what to read (including read alouds beyond poetry), Julie shares recipes for apple pie or scones.  Just the inspiration we need around here to make our usual tea + toast a bit more fancy!
Poetry Friday…and the Giveaway!
Being an occasional participant in Poetry Friday has brought such joy to our house.  I just love keeping my eyes out for something to share…and then seeing the riches that others bring.  I have discovered many a gem from clicking a Poetry Friday link!  And now I get to share some of that goodness with you all!  In celebration of Earth Day and Poetry Month, Amy Ludwig Vanderwater is going to send one of you a copy of her beautiful book called Forest Has a Song!  The words and pictures in this book just sing!  You'll love it I know.  Just leave a comment on this post, and we'll draw a winner next Wednesday…just in time for Poem in Your Pocket Day!
Caroline Starr Rose
And this week has an extra special poetry treat!  On Sunday at 1 pm Pacific I'm excited to hear Caroline Starr Rose talk about her most recent novel in verse Blue Birds.  She'll be answering questions, so it's a great time to ask questions about her writing process and for your kids to get to ask questions too!  It costs $5, but that gets you access to the live webinar, the replay link, and a month of goodness from the Read Aloud Revival Membership site.  They've got great booklists, recordings of other webinars, and complete transcripts and cheat sheets for every episode of the podcast.  It would be wonderful to *see* you there.  I'll be hanging out in the chatbox, so say hello!  And stop in at No Water River for this week's round up.