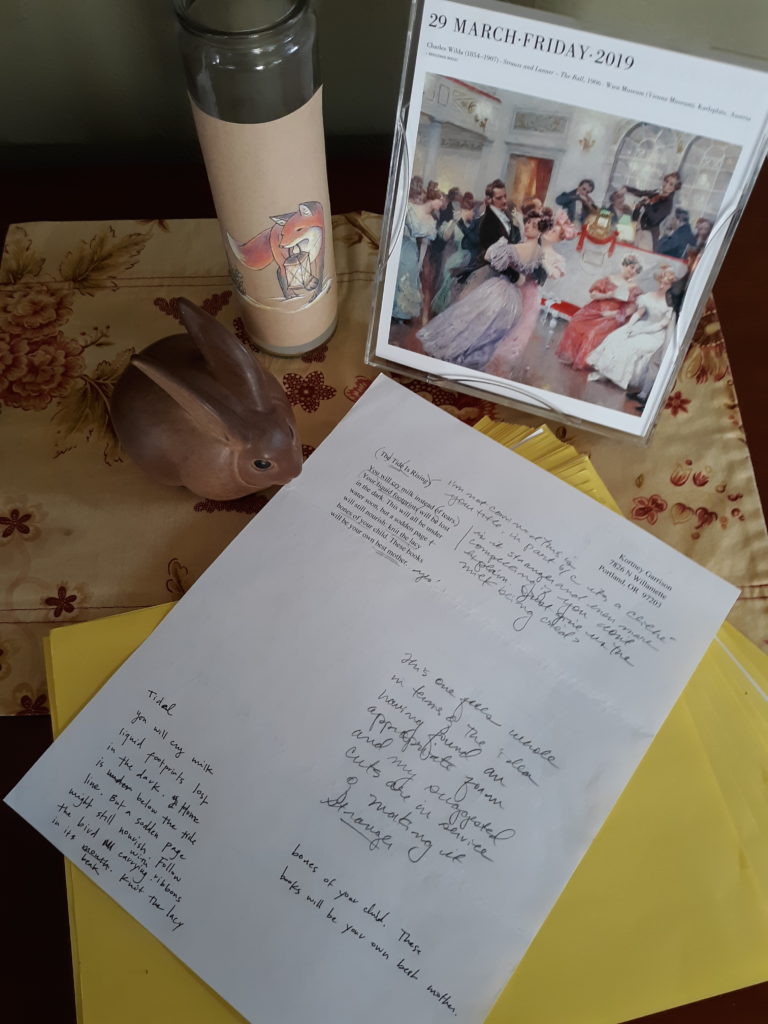 This week Holly Wren Spaulding posted a picture of a draft from T.S. Eliot. She asked, Have you ever received feedback like this? Well, yes I have–from Holly. Last Spring I took a long anticipated class with Holly, and she critiqued four or five pieces that I wrote during the workshop. I don't write long poems, and Holly's comments were often longer than the originals! I have to admit, it was very hard to see all that was wrong with these zero drafts, fragments, and beginnings. I knew that for the most part, Holly was right. Her suggestions would make these poems stronger. Still, I wasn't ready to move on the suggested changes. I put her notes in the pile of loose leaf poem drafts.
I've been going through papers all week–recycling, gathering like with like. I hope all this shuffling is a prelude to actually doing the taxes. I found Holly's notes again last night. Her changes still made a lot of sense to me. And there was one piece that had some promise, one piece that seemed somehow connected to lines I had written earlier this week at the coast. I am working on a few poems to submit to Hummingbird Poetry, and I think this poem belongs with them.
Holly says that "most writers spend the majority of their time in a process of revision. This is where you attempt to re-see your own words, your raw efforts, with fresh eyes." Like I said I've got a ream of yellow paper that's a few years of drafts. Drafts that have been cooling off, words to return to. Learning revision is a crucial next step in my Homeschool MFA. I am pleased to have such fine teachers and companions along the way.